Conductive Zirconia Ceramics: LPEX
"LPEX" is our proprietary conductive zirconia ceramics.
It stably exhibit megaohm-class electrical conductivity,
which is effective in preventing static electricity.

Features
Zirconia (partially stabilized zirconia) is a ceramic material
that combines hardness with toughness (chipping resistance).
It is widely used in suction and transfer nozzles for surface mounters
and other applications.

Although normal zirconia ceramics are insulating material,
in recent years, there has been a growing demand for ceramics
with electrical conductivity to prevent static electricity
in electronic component manufacturing process field.

To meet these needs, what we have developed is conductive zirconia called "LPEX".

Function / Specification
Representative characteristics
Material

LPEX-3

Component

Partially stabilized zirconia (ZrO2)


Titanium Oxide (TiO)

Color

Black

Density


[g/cm3]

5.76

Vickers hardness




[HV1]

1200

Fracture toughness value


K1C
[MPa・m1/2]

5.80

Volume specific resistivity




[Ω・cm]

106-107

Recommended operating condition

Room temperature
Application: Vacuum suction nozzle for surface mounter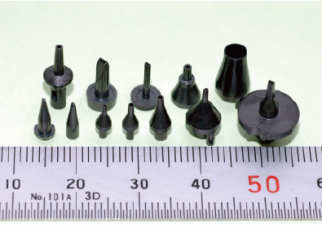 Our conductive zirconia ceramics "LPEX" is used as a suction nozzle
for surface mounting equipment.
It prevent accidental adsorption and electrostatic destruction of electronic components
by its function of discharge static electricity.